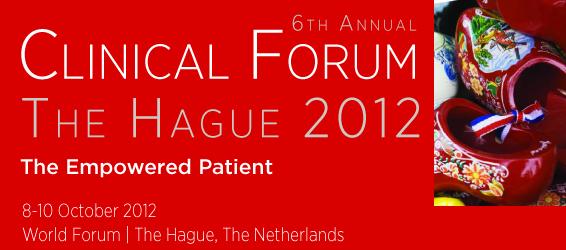 DIA Clinical Forum in the Hague 2012 – A report from Danijela Szili
For more info check
http://www.pharmaceutical-technology.com/contractors/consult/dia1/
DIA is a neutral global nonprofit association that provides knowledge resources across the full spectrum of medicinal product development. It organizes Conferences and Forums for all the stakeholders including patient advocates.
This years Clinical Forum took place in The Hague and the aim was to have an empowered patient in the center off all sessions. Maria Mavris, therapeutic development director from Eurordis had and excellent presentation about the role of patient advocates in clinical research in Europe and about importance and opportunities for their training. She talked about and explained the significance of Eurordis Summer School in Clinical Trials and Drug Development open for all the Eurordis members. I would like to invite rett parents who would like to know more about it and apply for this excellent training course to write to szilidanijela@gmail.com for more information. Eupati project was presented as an excellent example how patient advocacy groups can be leaders in very ambitious projects.
Comparing to the Annual DIA Conference in Copenhagen 2012 not many patient advocates took part in this Clinical Forum. Sessions were not as interesting and as informative as they were in Copenhagen. My impression is that for doctors, pharmacist and regulators most patients are not fit to be informed participants in clinical research and that for them most of the patients have a low level of health literacy and were mentioned so many times as a problematic part of a clinical trials ( patients do not take their medicines on time, have to be reminded to take their pills with specially developed software usually for smart phones, they do not lead their diaries as accurately as they should while in a clinical trial, so more softer developed for that too…)
The best part of the Clinical Forum for me was a Workshop: The Future of the Regulatory Clinical Trials Environment
Released in 2001 and implemented in 2004, the Clinical Trials Directive has massively changed the way clinical trials are authorized and performed in EU. While improvements in harmonization and quality standards have been acknowledged, the legislation created criticism for having increased bureaucracy without having improved clinical trial efficiency or enrolment and safety of patients in clinical trials. As a result of an extended review process the European Commission's DG SANCO released in July 2012 a proposal for a Clinical Trial Regulation. This proposal is currently being discussed in the Member States and as of October 2012 in the European Parliament. Therefore, it is important that all the stakeholders develop opinions, make remarks and suggest changes in time. This new regulation will give a patent advocates a much bigger role in the approval of the new clinical trials. For more info check: http://ec.europa.eu/health/files/clinicaltrials/2012_07/proposal/2012_07_proposal_en.pdf
http://ec.europa.eu/health/files/clinicaltrials/2012_07/press-releases/memo-12-566_en.pdf
RSE was represented by Danijela Szili.