The 6th European Rett Syndrome Conference took place in Tampere, Finland on September 27th and 28th. The Finish Rett Syndrome Association did an excellent job and was incredibly hospitable to around 180 participants from 18 countries worldwide.
Over the course of these two days, participants were invited to join parallel sessions. Many excellent speakers well-known in the Rett community were invited. The sessions discussed clinical trials and research, communication, physical therapy, epilepsy, autonomic dysfunction, the quality of life, behavioural issues and sleep problems in individuals with Rett syndrome.
The presentations from the event are available on the website of the conference in pdf format, but we will also guide you through the most important points of the conference in the following review of the sessions.
A major part of the conference was dedicated to the updates on gene therapy and clinical trials for Rett Syndrome.
Walter Kaufmann briefly presented the updates of Anavex clinical trial. Jeffrey Neul talked about various ongoing clinical trials in Rett syndrome while James Eubanks gave a very comprehensive presentation of the types of medical research in Rett syndrome.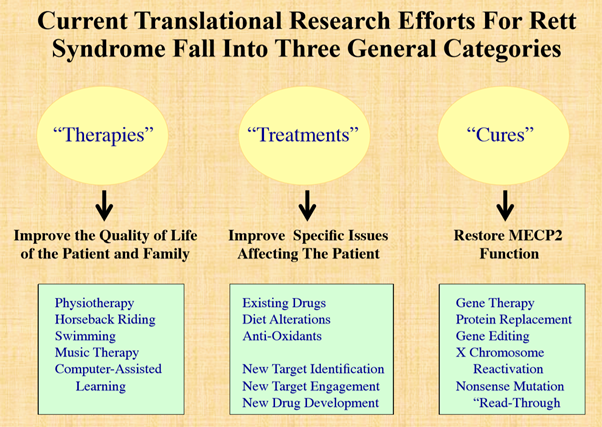 As mentioned earlier, you can find their full presentations in the website of the conference. Here we would like to point out just some insights about gene therapy.
The most known and exciting work on gene therapy for Rett syndrome is being done by AveXis and was briefly presented by Jeffrey Neul. Gene therapy cassette AVXS-201 owned by AveXis which is Novartis company (www.avexis.com) is still in the preclinical phase of the development. The clinical trial in Rett syndrome patients that was planned for the second part of this year has been officially postponed. This is a part of the company's official statement:
Due to the data integrity concerns related to a specific animal testing procedure used in the development of Zolgensma and included in the application, we have decided to also review data quality and compliance with the preclinical work performed for AVXS-201, our Rett Syndrome gene therapy candidate. Out of caution, and to ensure that we have a robust data package for the FDA we have chosen to repeat and add additional pivotal preclinical studies as well as new quality controls. Once these studies are completed, we will submit the revised IND (investigational new drug application) to the FDA with the goal of rapidly progressing to clinical trials in Rett Syndrome patients. We expect that conducting these additional studies and completing the IND will take until the middle of 2020. At that time we will be in a position to provide further updates to the Rett Syndrome community.
Although this is not good news for our Rett community we hope that the efforts to find better solutions, more optimal cassettes, which are taking place in different labs at the moment, will eventually give desired results.
Prof. Jean-Christophe Roux, Inserm Institute, France has been working on the new approach for Gene therapy in Rett syndrome. His idea was to transfer the BDNF gene instead of MECP2 (methyl CpG binding protein) gene into the cells by AAV vector.
In gene therapy cassettes (viral vector+ functional gene or part of a gene) Adeno associated virus is modified so that it does not cause illness. This type of virus does not integrate into the genome and is not causing serious immune response.
AAV-MECP2 vectors have been used with some success. The number of infected cells in the previous experiments is weak (6-8%) and mainly the infected cells will be cured. On the other hand, BDNF is secreted and cells infected by AAV-BDNF can also affect positively the non-infected cells.
It is known that AAV vectors infect the liver and over dosage of MECP2 lead to hepatotoxicity (liver toxicity).
Infection of the cells in the brain happens randomly and when the cell with healthy MECP2 is infected we have a duplication of MECP2 gene and double amount of MECP2 protein in that cell. This is a big issue since it has been known for a while that too much of MECP2 is also not good for the cell.
BDNF gene is located on the chromosome 11. BDNF expression is regulated by MECP2 and in Rett syndrome we know that its protein concentrations are low.
BDNF protein promotes the survival of nerve cells (neurons) by playing a role in the growth, maturation (differentiation), and maintenance of these cells. In the brain, the BDNF protein is active at the connections between nerve cells (synapses), where cell-to-cell communication occurs. The synapses can change and adapt over time in response to experience, a characteristic called synaptic plasticity. The BDNF protein helps regulate synaptic plasticity, which is important for learning and memory.
The experiment done on a male mouse had promising results. The AAV9-BDNF improves the phenotype of the MECP2- deficient mice. The lifespan, body weight and breathing (number of apneas) was improved. The next step is to replicate the treatment on the female Rett mouse model.
We would also like to summarise the presentation about Trofinetide Phase III Clinical trial explained by Jim Youakim, Acadia Pharmaceuticals as it wasn't shared on the conference website.
Trofinetide (NNZ-2566) is a novel synthetic analog of the amino-terminal tripeptide (GPE Gly.Pro.Glu) of the IGF-1 (Insulin like growth factor 1)
Glycine‐proline‐glutamate (GPE) is naturally cleaved from the IGF‐1 N‐terminal and is also neuroprotective after ischemic injury, thus providing a potential novel strategy of drug discovery for management of neurological disorders.
It is presumed that GPE regulates microglia, which maintains and prunes synapses.
GPE has a short half-life (t1/2 is 5 min) and this is why methyl GPE has been developed (trofinetide) with a longer half-life (74 min).
Preclinical evidence showed that both GPE and IGF-1 are able to partially rescue the neuronal deficits caused by MECP2 mutant astrocytes.
Trofinetide Clinical Program in Rett syndrome has already completed Phase I and II studies. The results were positive and were published in Neurology in 2019.
Neuren Pharmaceuticals joined forces with Acadia Pharmaceuticals in order to be able to prepare well for the big Phase III Clinical trial planned for the end of this year. If the product is successful in the Phase III and gets marketing approval from the FDA trofinetide will be available on the USA market and Acadia will have the rights to sell it there. After the potential approval by EMA (European Medicines Agency) Neuron will have the rights to sell trofinetide in the European Union.
Details about the Phase III are explained on the slides below. It will consist of three studies. The first one named LAVANDER will be double-blind study that will last for 12 weeks and involve 184 females with Rett syndrome. Double-blind study means that neither doctor nor patients know who takes the placebo and who the investigational drug, in this case trofinetide. The second one LILAC will be open-label study that will last for 40 weeks and will include all patents who complete LAVANDER study. The third one named LILAC-2 will include all who took part in LAVANDER and LILAC and would like to continue taking trofinetide after 52 weeks of taking it as participants of LAVANDER and LILAC study.
To sum up, we present you a table with the overview of the Clinical trials for Rett syndrome that are currently registered at www.clinicaltrials.gov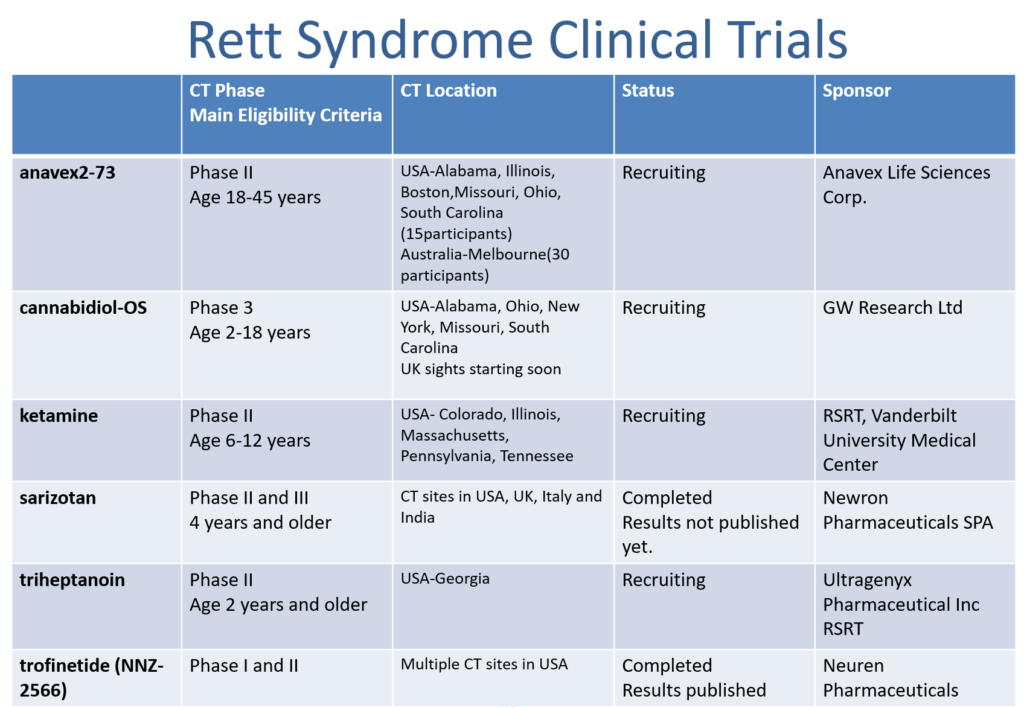 Walter Kaufmann talked not only about clinical trials but also about behavioural problems in Rett syndrome.
He argued that severe autistic behaviour tends to be present in regression period which can lead to a misdiagnosis of autism. Milder autistic features may be present later in life but they tend to be internalising behaviours e.g. changes in mood, depression and anxiety. Whereas externalising behaviours such as screaming, crying are less frequent.
It has been difficult to measure these behaviours in the past though. The Rett Syndrome Behaviour Questionnaire was not really capturing this, so they have been trying to design RettBe 2.0 – a new more comprehensive behavioural instrument covering: anxiety, emotional behaviour non-anxiety, social behaviour, attention difficulties, sensory stimulation, repetitive- stereotypic behaviours, restricted behaviours, disruptive behaviours and breathing problems.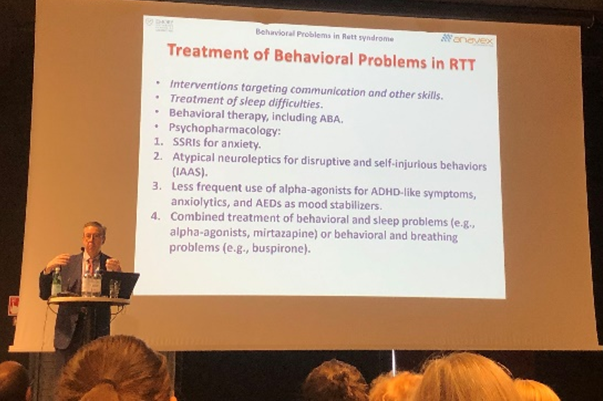 Suggested treatments were:
communication therapy
behavioural therapy including ABA
psychopharmacology: SSRI's for anxiety, atypical neuroleptics for disruptive and self-injurious behaviour, AED as mood stabilisers.
less frequent use of alpha-agonists for ADHD symptoms,
combined treatment of behavioural and sleep problems (e.g. alpha agonists, Mirtazapine) as new potential treatment mirtazapine) or behavioural and breathing problems (e.g. buspirone).
Walter Kaufman also pointed out that he would like to see a collaboration on larger scale for this study.
Lotan Meir presented on two topics this year: Walking and Physical therapy in Rett Syndrome.
During his first presentation Meir's focus was on the importance of walking and its positive impact on improvement of cardio-vascular function, helping with scoliosis, constipation, slowing of late motor deterioration, osteoporosis etc.
Interestingly, he talked about cases where females with Rett syndrome regained the ability to walk after 5, 12 and even 23 years of being in a wheelchair but you do not hear this mentioned in the literature. In fact, around 80% of children with Rett had lost the ability to walk at some point but regained it and the ages involved were between 1 and 33 years of age. The average length of time when walking stopped was 180 days.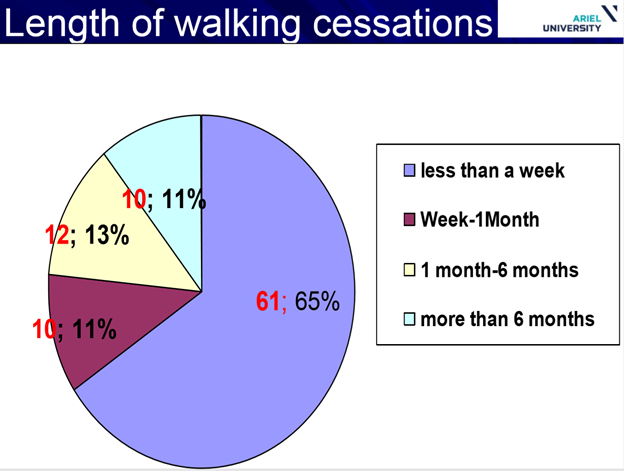 The reasons why people ceased walking for these periods include orthopaedic, neurological, emotional, sensory, medical and psychological problems. When losing the ability to walk, it is important to find the reason, resolve it and initiate an intensive rehabilitation therapy which can help some children or adults to regain their ability to walk.
Improvement can be reached by using a treadmill or ABA therapy. There is no pathological element in Rett syndrome which would explain why the ability to walk is lost. Some people with Rett syndrome do not like to walk so you need to find motivation for them to do so. It is important to combine walking/activity with a functional gain and not just training.
He also indicated that a core muscles training programme should be implemented from a young age to prevent fear of movement and development of fixations.
On his second presentation dedicated to guidelines for intervention in physiotherapy Meir Lotan pointed out that physical therapy is not about the name of the method you use but it is about seeing the child's needs. There is no single right way to do it. The therapist should believe in the ability of individuals with Rett syndrome and work with them respectfully and with the assumption that they understand much more than they are able to show.
Building an emotional connection is very important if we wish a person with Rett syndrome to cooperate. The involvement of all caregivers (siblings, parents, therapists, and educational staff) is also necessary. People with Rett syndrome have fear of movement, so a secure environment, with good motivational factors, communication, music, repetition, timing or a core muscles training to ensure stability in movement are essential.
Meir believes the UpSee is also a helpful option for children who are unable to walk. It helps them to experience movement in a positive way and reduces their fear of movement. This device can be used as part of physical therapy sessions.
Anne Marie Bisgaard also presented on two subjects: Medical and physical follow-up of adults with Rett syndrome and Sleep disturbances
Her first presentation was focused on what we as caregivers, parent and health care providers should focus on when someone with Rett syndrome transitions to adult services, and for those adults living with the disorder now, in order to make their quality of life as best as we can.
Anne shared results from the Australian Rett Syndrome database that showed survival for classic and atypical RTT was greater than 70% at 45 years (>1000 participants) and compared it with Dr Rett's original Austrian cohort. The causes of death have changed: in the past, poor health and nutrition were the main cause but this has improved and now it is often cardio-respiratory issues that cause it.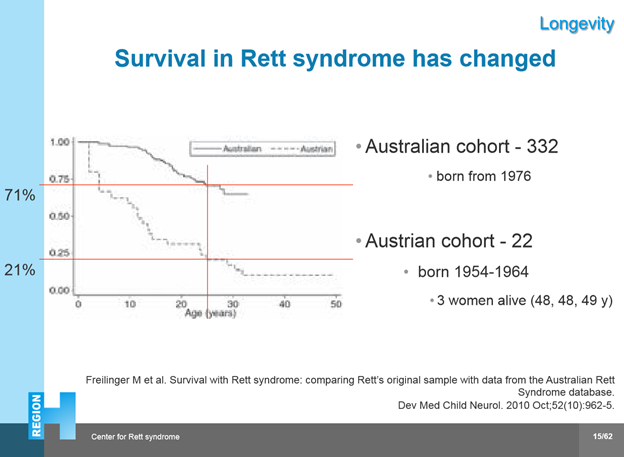 Some of the risk factors associated with mortality in Rett syndrome are:
nutrition
gastrointestinal issues (reflux, constipation, gallbladder dysfunction)
scoliosis
aspiration risk (ex. positioning when eating/drinking),
epilepsy
contractures, dystonic postures – proper positioning is important,
mobility
The take home messages were that many individuals with Rett syndrome will live long into adulthood, but new issues may arise in terms of comorbidities. Lifelong care planning is needed to maintain functional abilities and to have better quality of life.
On the topic of Sleep disturbances in Rett Syndrome Anne Marie Bisgaard argued that sleep abnormalities are frequent in Rett syndrome. They are connected to daytime sleepiness, epilepsy and breathing issues. Sleep disturbances are chronic in Rett syndrome and have a huge impact on the child's and family's quality of life. Surprisingly, there is not much evidence of effective medical treatment for sleep disturbances in Rett. Medication can help in some situations though and this may vary from country to country. The most commonly used medication is Melatonin.
The first thing to look at when facing sleeping problems is sleep hygiene and establishing a bedtime routine with regular bedtimes and whatever they need to help them relax e.g. a warm bath, reading, singing/music etc. Also, the room shouldn't be too warm nor have too much light. If the problem persists further evaluation is necessary such as actigraphy and polysomnography.
Actigraphy is a non-invasive method of monitoring human rest/activity cycles. Polysomnography is a sleep study. This test records certain body functions as you sleep or try to sleep. Polysomnography is used to diagnose sleep disorders and apneas.
Aglaia Vignoli elaborated more on the topic of Quality of Life in Rett syndrome.
Aglaia talked about the quality of life for caregivers which is a broad ranging concept affected in a complex way by someone's physical health, psychological state, personal beliefs, social relationships and their relationship to their environment.
She went on to discuss what factors are typically measured but in particularly in relation to caregivers – things like how raising a child with a disability affects the family's well-being, the parental mental health, being care coordinators for their child with a disability, the extra work that is involved in personal care and medication etc.
There are a number of studies that have been conducted:
a French study showed how seizures were having a high impact on worsening quality of life for both the child and the parents
another study looked at maternal mental health and found that it was better when the mother worked full or part time, when the child had not had a fracture in the last year, when they were in a well-adjusted marriage and the child had less facial stereotypies and less involuntary facial movements.
Another study found 30.6% of 49 mothers of females age 3-29 years had severe depression – employment status here was also a factor.
Other problems mentioned in other studies included the difficulty of explaining the illness to others, the time taken for personal care and difficulty in finding time for other children in the family. Also sleep disturbances and behavioural problems featured quite often.
So why was this all useful?
It helps to identify areas to optimise the well-being of the whole family
It helps to evaluate the effectiveness of services for people with RTT
It helps to evaluate the efficacy of health care management and develop appropriate, cost effective strategies
It helps to shape the outcome measurements of clinical trials
Future directions should include looking at how Rett syndrome affects physical and psychological aspects of the whole family. Support should be given at key moments, in particular at the time of diagnosis, adolescence and transition to adulthood. Access to high quality and timely support from the patient support organisations is vital.
Helena Wandin presented International Guidelines for the Management of Communication in Individuals with Rett Syndrome, a joint work of Gillian Townend, Anna Urbanowicz, Helena Wandin, Theresa Bartolotta, Leopold Curfs.
She started with an overview of some key points that came out from the project:
The potential to communicate is frequently underestimated in individuals with Rett syndrome
Professionals feel that limited access to communication and education is much more disabling individuals with Rett syndrome than anything else.
A communication program is never too early and never too late to start.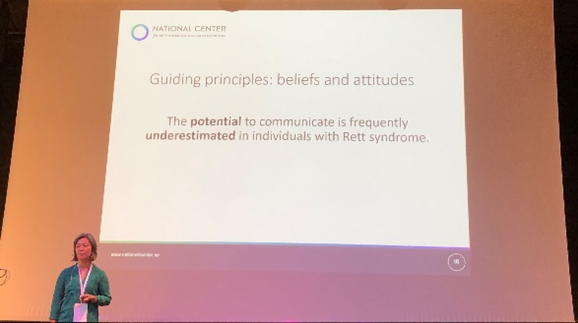 The International Guidelines for Rett Syndrome will be available for downloading at www.rettsyndrome.org in early 2020. You can also find a broader presentation of the guidelines on a webinar recording, that took place shortly after the Conference in Tampere and is available at https://www.rettsyndrome.org/for-families/education/
Gill Townend then went on to talk about the assessment of the language and cognition in Rett syndrome. Standard tests of cognition and language usually require motoric and/or verbal responses. This makes assessment challenging for people with Rett syndrome. Historically all individuals with Rett syndrome have been considered to be severely cognitively impaired.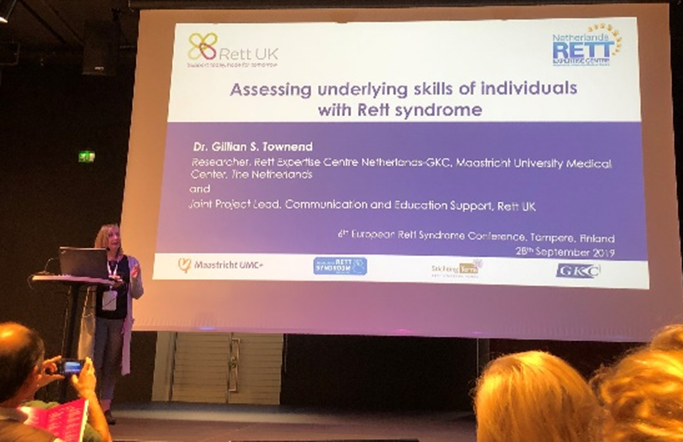 Small-scale (10 children) pilot study has been undertaken by Callie Ward and Gill Townend with the aim to test visual reception (VR), receptive language (RL) and expressive language (EL) skills of children with Rett syndrome using eye gaze access and to compare performance on formal (standardised) assessments and informal assessment tasks.
The findings were curious and calling for a discussion as well as a bigger scale research:
There was a marked discrepancy between expressive language skills on formal & informal assessment as informal tasks were more adaptable to AAC use
All participants scored at 29 months of age or above which is higher than earlier studies suggest and many participants achieved a Baseline score of the test and not a Ceiling, therefore, results reflect minimum achievement, not maximum
Findings suggest that some children with Rett syndrome have age appropriate (or above) cognitive and receptive language skills
There were many more interesting presentations during the conference but it would be too much to describe each and every in this short report. Therefor once again we encourage to check out all the presentations that are available on the conference website.
This interesting and inspiring event finished with the poster session, organized by Gill Townend. This year the poster session had a record number of participating National Parents Associations and Foundations compared to the previous years. 29 posters from 26 countries were submitted and broke the boundaries of Europe as Australia, Morocco and Tunisia joined this great initiative.
Last but not least the poster session was followed by RSE General Assembly, which had 18 official representatives and 6 observers present.
RSE GA approved the activity and financial reports of 2018, which you can find here: https://www.rettsyndrome.eu/association-rse/minutes-etc/
As always, RSE board finished the meeting not only by presenting what has been done, but inviting to the upcoming events as well.
RSE board would like to invite all our members to use the EURORDIS online learning tools and to apply to participate in the Summer, Winter and Digital Schools. More info please visit: https://openacademy.eurordis.org/
The call for the EURORDIS Summer School is already opened, so please visit the website and apply.
The next RSE GA will be held next year in Lisbon during the event taking place on November 20th and 21st. The detailed program for this event will be published once we have more info from the organizers, ANPAR Rett, and Portuguese Rett Syndrome Association. This GA will be longer as there will be very important elections for the board taking place and we're counting on all our members to be present so please save the date!
Finally, the 9th World Rett Congress will take place from September 30th until October 3rd of next year on the Gold Coast in Queensland, Australia. To read more about this please follow the link below and don't forget to save the date!
http://rettworldcongress.org/
Once again, thank you Rett Finland for organising this exciting event that gave us an opportunity to meet, learn and share.
This lengthy (but hopefully interesting) report is the result of a joined effort of Caroline Lietaer, Danijela Szili, Yvonne Milne, Becky Jenner and Laura Kanapieniene.
6th European Rett Syndrome Conference, Tampere Finland