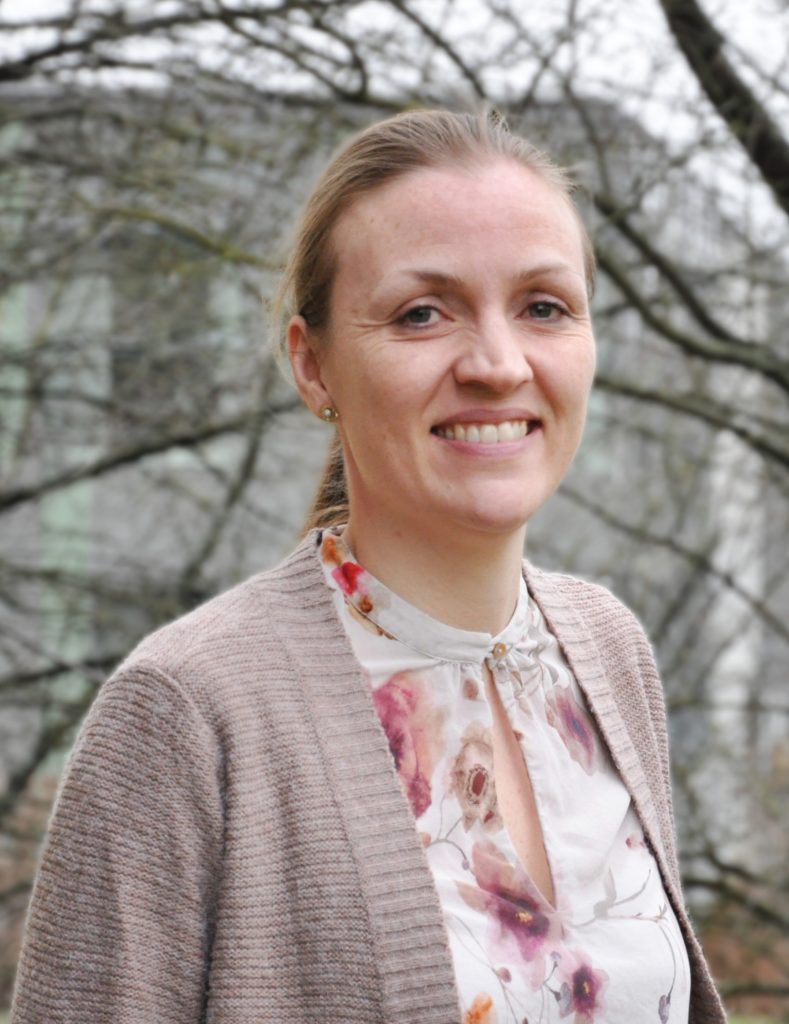 I am a specialist in pediatric physiotherapy and work as a research physiotherapist at the Danish Center for Rett Syndrome. Here we focus on optimal and lifelong health promotion and on enhancing the quality of life of those affected with Rett syndrome and their families. As a physiotherapist working with individuals with multiple disabilities my aim is for them to achieve the highest level of independence and to help them maintain this level so they can lead an active and healthy life. Thus, I'm especially concerned about the high levels of sedentary behaviour that we see in individuals with Rett syndrome. In Denmark, two thirds of our population of individuals with Rett syndrome are adults. As they reach adulthood, the level of services decreases. We are very aware of this challenge and therefore we also focus on adults in our clinical work and research efforts.
I obtained my doctoral degree within disability research at Lund University in 2018. The primary area of my research is validation of outcome measures and development and evaluation of physical activity and participation interventions. It has been important to establish a toolbox of valid and reliable outcome measures and we have been involved in the validation of several outcome measures. Building the repertoire of outcome measures is valuable to both researchers and practitioners for intervention studies and clinical monitoring. We have also described the patterns of sedentary time and daily steps in 48 girls and women with Rett syndrome aged 5-60 years. On average 83.3% of waking hours were spent in sedentary behaviours and the median daily step count was 5128. Advancing age and poorer walking skills were associated with higher levels of sedentary time. Further, we have focused on the development of an 'Uptime participation' intervention which was evaluated in 14 girls and women with Rett syndrome aged 5-48 years. This pilot intervention focused on participation in enjoyable activities to promote 'uptime' in home, school/day center and community settings. Significant positive effects were seen after the intervention in sedentary time, daily steps, walking capacity and quality of life.
I'm part of an international collaboration with the two highly esteemed physiotherapists and researchers, Jenny Downs and Meir Lotan. Together we strive to find innovative and effective ways to have individuals with Rett syndrome of all ages participate in more light physical activities. Currently, the ActivRett trial is under way across Australia, Israel and Denmark where we implement Telehealth support to increase physical activity in individuals with Rett syndrome.
To see my publications, go to: www.ncbi.nlm.nih.gov
You can also read more about my work here Research in the clinic for Rett syndrome
Michele Introduces Herself
Relevant publications
Implementing telehealth support to increase physical activity in girls and women with Rett syndrome-ActivRett: Protocol for a waitlist randomised controlled trial.
Jenny Downs, Meir Lotan, Cochavit Elefant, Helen Leonard, Kingsley Wong, Nicholas Buckley, Michelle Stahlhut
Lay summary
Individuals with Rett syndrome (RTT) experience impaired gross motor skills, limiting their capacity to engage in physical activities and participation in activities. Use of gross motor skills as physical activity during everyday living is an important component of health and quality of life. Still, we have limited knowledge of the effectiveness of supported physical activity interventions. Programmes of support for increasing participation in meaningful physical activities in small groups of individuals with RTT have been proven to be feasible and increase function. This study aims to evaluate the effects of a telehealth-delivered physical activity programme on physical activity, sedentary behaviour and quality of life in RTT.
This is a multicentre study, conducted in Australia, Denmark and Israel. It is a randomised waitlist-controlled trial comparing an intervention to support physical activity with usual care. When a participant enters the study, he/she will be allocated to either immediate intervention or waitlist. Participants on the waitlist will then later complete the intervention. Participants are approximately 60 children and adults with RTT, recruited from the Australian Rett Syndrome Database, the Danish Center for Rett Syndrome and the Rett Syndrome Association of Israel. All participants are able to walk either independently or with assistance. The intervention duration is 12 weeks, including fortnightly telephone contact to plan, monitor and develop individual activity programmes. The activity programme aims to increase standing and walking activities, also known as 'uptime' activities. The increased 'uptime' activities will be determined by goals set in collaboration with caregivers and service providers for use in their own environments (home, school, community) and supported by the usual caregivers and service providers in those environments. Outcomes are measured at baseline, at 13 weeks and then at 25 weeks. The primary outcomes are sedentary behaviour assessed with an activPAL accelerometer and the number of daily steps measured with a StepWatch Activity Monitor. Secondary outcomes include sleep, behaviour and quality of life. Caregiver experiences will be assessed immediately after the intervention using a satisfaction questionnaire.
For the involved participants and families, this study will build on available resources and strengths, respond to locally identified needs and empower those working in the local communities to improve physical activities and participation of the individuals with RTT under their care. Results from the study will be presented at conferences and consumer forums. We will develop an online resource that presents strategies of how to evaluate and support individuals with RTT to live physically active lives.
This study will be the first clinical trial investigating strategies to increase physical activity in RTT. It is also one of the first studies to apply a telehealth approach in RTT. Telehealth can bring specialist skills to the affected individual in his/her own environment and is a particular attractive approach in light of the social isolation and disruption to traditional therapy delivery caused by the ongoing COVID-19 pandemic.