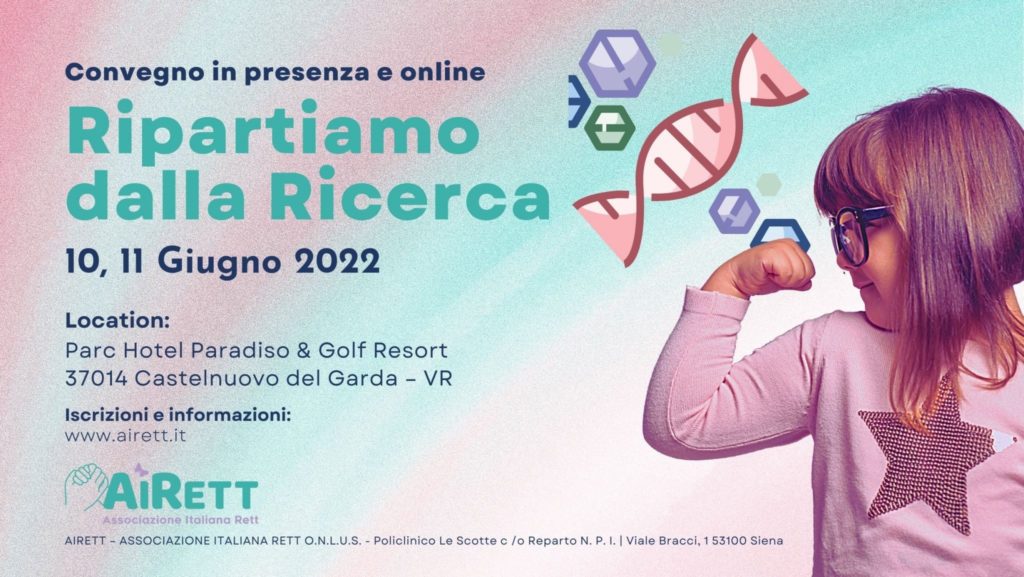 Airett are delighted to announce that after an absence of two years they will be hosting a hybrid event on 10th and 11th June 2022.
THE THEMES OF THE CONFERENCE
Scientists and researchers will provide updates on the latest clinical trials and what is on the horizon.
A special attention will be paid to the theme of gene therapy, which will be illustrated by the researcher directly involved. Important information will also be given about Gene Editing, a European research project that also involves Airett.
In addition to clinical trials and genetic research, they will also cover epileptic seizures, respiratory problems, gastrointestinal problems, nutrition, problem-behaviors, bruxism and dysphagia.
They will also have an update on the projects funded with the Airett 2021 call.
The morning of Friday, June 10, will be characterised by two sessions in parallel: a purely technical one with the aim of stimulating debate and comparison between researchers in order to establish interesting collaborations; and the other will be a training course aimed at teachers, therapists and family members on the use of Amelie, the tele-rehabilitation project.
The full programme is now available!
INFORMATION
The detailed program of the conference will be published shortly. There will a limit of 80 people attending in person but the whole event can be followed online. Register by 20th May 2022.
To attend online register here To attend in person register here
On behalf of AIRETT – ITALIAN ASSOCIATION RETT O.N.L.U.S.
Policlinico Le Scotte c /o Reparto N. P. I. | Viale Bracci, 1 53100 Siena, Italy