By Danijela Szili.
EURORDIS Membership Meeting 2017
This year's membership meeting took place in Budapest from 19-20 May. It gathered around 300 participants from all over Europe and some from USA, Iran, India, Canada and China.
It started with EURORDIS General Assembly for members only.
As it is the case every year the Activity Report for the last year was presented. Online version is available on: http://www.eurordis.org/activityreports
Presentations of the Financial Report 2016, Auditor's Report and Action Plan 2017 & Budget 2017 followed.
As a result of Board of Director's elections two new board members were elected: Alba Ancochea, Spanish Federation of Rare Diseases and Lieven Bawens, International Federation for Spina Bifida and Hydrocephalus, Belgium. Three board members were reelected: Dorica Dan, Romanian Prader Willi Association, Romania, Birthe Holm, Rare Diseases Denmark and Dimitrios Synodinos, Tuberous Sclerosis Association of Greece.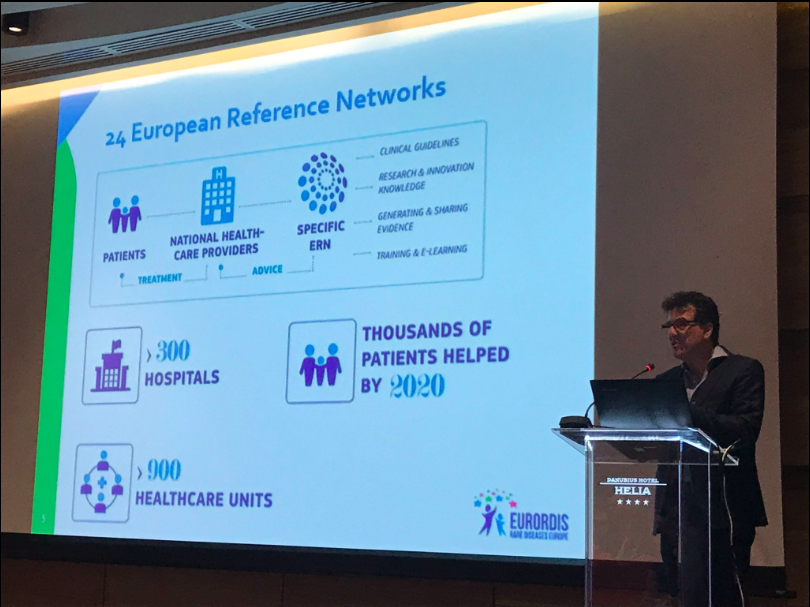 In the afternoon Plenary sessions were dedicated to the EURORDIS 20th Anniversary. Achievements over the past 20 years were presented by Dorica Dan and Yann Le Cam opened the discussion about way forward: goals, objectives and means.
The second day of the meeting was divided into four parallel workshops: European Reference Networks (ERNs); natural, alternative and complementary therapies; survival kit for small patient organizations and social revolution in rare diseases and how to make it happen for patients with rare diseases.
In the social revolution workshop the results of the INNOVCAre/Rare Barometer Survey on the impact of rare diseases in daily life were presented and small group discussions on the results followed.
Patients who participated in this survey are part of the Rare Barometer Voices database. Rare Barometer Voices is a tool to carry out EURORDIS quantitative surveys on issues affecting people with a rare disease. It covers 48 countries and all surveys are conducted in 23 languages. You can still join it registering at:
http://www.eurordis.org/rbvoices/build/index.html
The survey taking place at the moment is about alternative therapies and is available on the link: https://www.sphinxonline.com/SurveyServer/s/EURORDIS75/alternative_therapies_languages/questionnaire.htm
The collected data is stored in France following the EU Data protection law.
A large part of the meeting was dedicated to European Reference Networks (ERNs).
More about ERNs (European Reference Networks):
http://www.eurordis.org/content/about-european-reference-networks
http://ec.europa.eu/health/ern/networks_en
http://ec.europa.eu/health/sites/health/files/ern/docs/ernithaca_factsheet_en.pdf
More photos:
https://twitter.com/search?f=images&vertical=default&q=%23EMM2017&src=typd
EURORDIS Membership Meeting 2017 – Full report