The Rett Syndrome Association (Russia) has been implementing a project on creating Rett syndrome resources in Russian language since 2017.
The start to the project was given by the VIII World Congress on Rett syndrome, which was held in Kazan in May 2016.
In 2018, within the framework of the "Mutual Support" project (winner of the presidential grants fund competition, N 17-2-012925), the Association created the website ретт.рф.
Articles on the website are grouped by topics: diagnosis and treatment, legal information, information for families (rehabilitation and training). There is a page with frequently asked questions (FAQ) about Rett syndrome (it contains 33 questions and answers). All texts were written by the parents of children with Rett syndrome – members of the project team. You can read their personal stories about their lives with Rett syndrome children here: http://xn--e1avha.xn--p1ai/team.
The authors are: Olga Timutsa and Gleb Arzhakov from Kazan, Natalya Lokhmanova and Lyubov Beloborodova from Moscow, Anastasia Kazakova from Vladimir, Svetlana Sazonova from Yekaterinburg, Tatyana Demina from Orenburg, Oksana Garkushina from Miass, Svetlana Pilina from Ulyanovsk, Sergey Chumakov from Krasnoyarsk, Lyubov Rumyantseva from Nizhny Novgorod).

The texts were edited by experts and a professional editor. Medical articles were written by: Viktoria Y. Voinova – Professor of the Department of Neuro- and Pathopsychology of development of the Faculty of Clinical and Special Psychology, Leading Researcher of the Department of Clinical Genetics of the Russian National Research Medical University named after N.I. Pirogov, MD (genetics, neurologist), Moscow; Svetlana Ya. Volgina, Professor of the Department of Hospital Pediatrics, Kazan State Medical University, MD, Kazan.
Information written above helps one to understand why the project was called "Mutual support" – only by helping and supporting each other can we get results and reach our goals.
In 2019, the Association continued to work on the project, "Mutual Support: Expanding Borders", having received a grant for its implementation (as part of a new competition of the Presidential Grants Foundation No. 18-2-001007).
Within the framework of the project, events are planned in Russia, Kazakhstan, Moldova and Armenia. The final result of the project will be the creation of two documentaries and three social videos about children with Rett syndrome and their families. Travels became possible at the invitation of friendly specialized non-profit organizations led by the mothers of girls with Rett syndrome: in Kazakhstan – Roza Berkesheva ("Erekshe ZHOL" public foundation), in Moldova – Doina Lozetski ("Copiii Ploii" public organization), in Armenia, Marina Parazyan («Source Foundation supporting children with disabilities and their families»).
Meetings have already been held in Nursultan (Kazakhstan) in March 2019, and in Chisinau (Moldova), in May 2019.
We are grateful to our experts who travel with our team: Victoria Voinova (Moscow); Marina Litvinskaya – chief freelance specialist in palliative care for children of the Ministry of Health of Krasnodar Region, pediatrician, PhD, deputy chief physician for the medical unit of the Krasnodar State Budgetary Health Institution (Krasnodar); Snezhana Mitina – social lawyer, head of an inter-regional public organization (Hunter syndrome), formerly of the Union of Patients and Patient Organizations of Rare and Orphan Diseases (Moscow); Ilona Absnadze – leading specialist in technical means of rehabilitation, Bobath approach therapist, physiotherapist, special psychologist (Moscow); Natalya Kaliman, Director of the Autonomous Nonprofit Organization 'Diakonical Center" Touch", speech therapist, speech pathologist, music therapist, specialist in alternative supplementary communication (Orenburg).
During their visits, project experts advise parents, hold working meetings with colleagues, organize round tables and tours to rehabilitation centers, social agencies for the protection of children's rights and friendly non-profit organizations. 15 families with children with Rett syndrome arrived at the meeting in Nursultan (Kazakhstan) from 8 cities of Kazakhstan. A delegation from Belarus arrived at the meeting in Chisinau – representatives of the 'I-Rettkaya' institution.
The footage made during the trips will be included in the documentaries that the project team plans to release by December 2019.
In August, the project team will travel to Armenia, and in October, during the month of awareness of the Rett syndrome, we plan to wrap up the project in Moscow. The authors of the project are confident that the exchange of existing experience between organizations helps to cope with difficulties together and share our best practices with each other in the fight against illness.
For nearly a decade, the Association has been helping parents deal with a rare genetic disease of children all over Russia; The Association organized 'Schools for Patients', facilitated the organization of conferences and training courses for doctors, Rare Diseases and Rett syndrome Awareness Days . You can learn more about the activities of the organization on the website http://rettsyndrome.ru/ and on our social network pages: https://www.facebook.com/groups/186556561394176/.
Resource on Rett syndrome in Russian: ретт.рф.
The information was prepared by the director and the project manager of the Association, Olga Timutsa. Translated by Liana Murtazina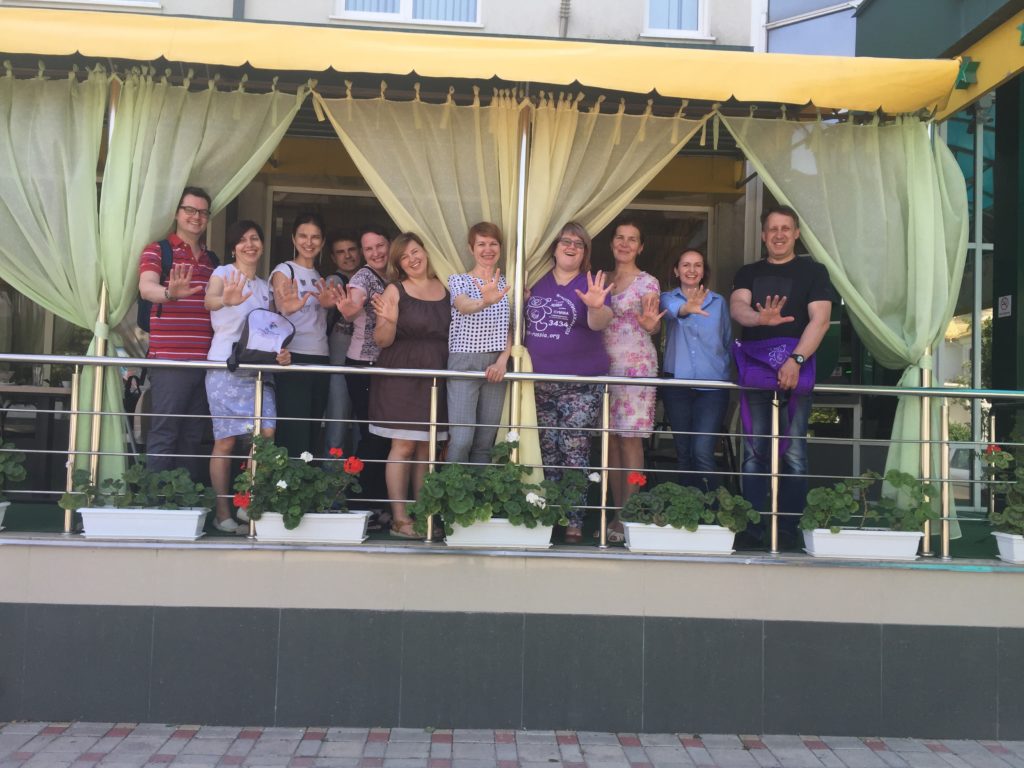 News from the Russian Rett Association