Following our Network Support and Research Event we would like to share a video of Walter Kaufmann presentation "Burden of Illness in Rett Syndrome: Initial Evaluation of a Disorder-Specific Caregiver Survey".
In this talk, Walter Kaufmann will present an overview of the Burden of Illness in Rett Syndrome survey. Previous studies have shown that individuals with Rett syndrome and their caregivers experience multiple challenges affecting their quality of life. So far, disease burden evaluations have not adequately considered the unique symptoms of Rett syndrome.
To address this gap, a collaborative project involving advocacy groups, clinicians, drug industry and others in the USA, Europe, and Australia evaluated the impact of 21 frequent clinical manifestations of Rett syndrome. Caregiver and clinician questionnaires were developed and administered anonymously online to 756 caregivers (predominantly parents) and 112 clinicians. Initial analyses aimed at identifying (1) problems of high impact on affected individuals and caregivers, (2) the level of agreement between impact on individual and caregiver, and (3) the relationship between problem severity and impact.
The survey found that the most impactful problems were those related to the core features of Rett syndrome, namely communication and fine and gross motor impairments, irrespective of severity. Impairments tended to affect caregivers more than were perceived to affect individuals with Rett. In terms of severity, many problems have a disproportionately greater impact on affected individuals and their caregivers.
The data demonstrate that even mild severity functional impairments and clinical manifestations can place a disproportionate burden on individuals with Rett syndrome and their caregivers. Future analyses will examine the role of other factors on burden of illness.
Once again many thanks to our funders The European Joint Programme for Rare Diseases Network Support Scheme and our sponsors Anavex, Taysha, Neurogene and Neuren for making this possible.
Also thanks to our country hosts in Turkey, Hungary, UK, Netherlands, Serbia, Croatia and Georgia for all their hard work in organising their meetings and translating all the presentations, and of course to all the presenters. The event has reached 730 people so far!
Don't worry if you were not able to join us live, you can still watch all the replays from the event website. If you already registered then just go to the website and click on Replays.
Not yet registered? Sign Up Here
If you are interested in adding subtitles in more languages, please contact bjenner@rettsyndrome.eu for more details.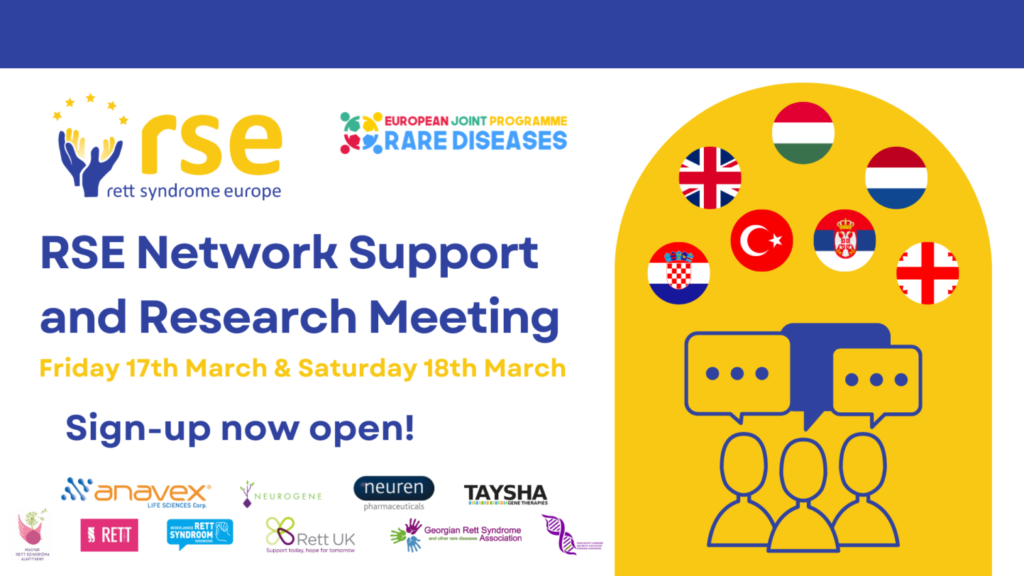 The Burden of Illness Study in Rett Syndrome